This article is about the first film. For the character, look here.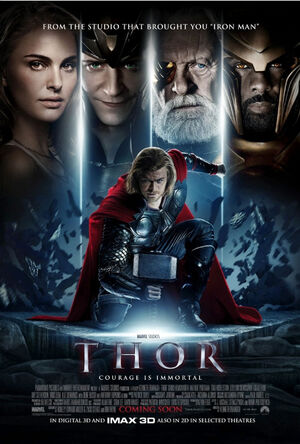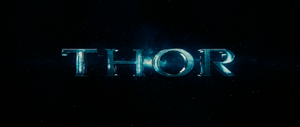 Thor is a 2011 film, and the fourth in the Marvel Cinematic Universe's Phase One. It was produced by Marvel Studios, and distributed by Paramount Pictures. It was directed by Kenneth Branagh, from a screenplay written by Ashley Edward Miller & Zack Stentz and Don Payne, based on a story by Mark Protosevich and J. Michael Straczynski. It was followed by Thor: The Dark World in 2013, with much of the same cast, but with a different director and writers.
In 2009, The Walt Disney Company bought Marvel Entertainment, although this didn't affect the distribution rights of Thor in the home video market until July 2013.
Release dates
Sydney, Australia: April 17, 2011
United States: May 6, 2011
Briefing
Thor is the brash and egotistical crown prince of Asgard, who reignites a war with the Frost Giants. As punishment, his father, Odin, strips him of his powers and sends him to Earth. He must learn quickly to be a just prince if he is to return to Asgard, as his half-brother, Loki, plans to take over their realm and destroy all of Jotunheim.
Debriefing
Cast
Mentioned characters
Notes
Trivia
See also
External links
Community content is available under
CC-BY-SA
unless otherwise noted.