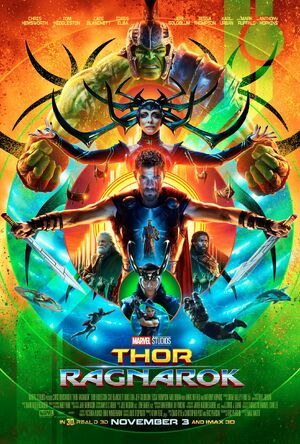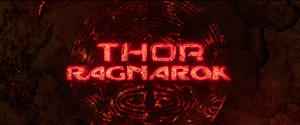 Thor: Ragnarok is 2017 film, and fifth in the Marvel Cinematic Universe's Phase Three. It was produced by Marvel Studios, and distributed by Walt Disney Studios Motion Pictures. The film was directed by Taika Waititi, from a screenplay written by Eric Pearson, based on a story by Craig Kyle, Christopher Yost, and Stephany Folsom. It is the third film in the Thor series, although the character will continue in the Avengers spin-off series. It is a great departure from the previous two, losing the "fish out of water" aspect by having Thor accustomed to Earth culture, while spending less time there and more time in space, adding more comedy, giving Thor a radical new look, and leaving out or reducing virtually all of the previously established characters through various means (mostly through death).
Release dates
El Capitan Theatre, United States: October 10, 2017
United States: November 3, 2017
Briefing
In the midst of preventing Ragnarok, a doomsday-level event for Asgard, Thor is marooned on a gladiatorial-like planet, where he is forced to fight none other than the Hulk, for the Grandmaster's entertainment. With the clock ticking, Thor tries to get help from the Hulk, and other allies, to escape and save Asgard.
Debriefing
Cast
Mentioned-only characters
Notes
Matt Damon, Stan Lee, and Scarlett Johansson are uncredited as Loki actor, barber, and Black Widow, respectively.
Thor stunt doubles were Bobby Holland Hanton and Daniel Stevens.
Thor mo-cap stunt double was Paul Lowe.
Loki stunt double was Harley Dust.
Hela stunt double was Zoë Bell.
Heimdall stunt double was Jermaine Holt.
Valkyrie stunt double was Tara Macken.
Director Taika Waititi played the Hulk after Mark Ruffalo had finished his scenes.
Loki began impersonating Odin at the end of Thor: The Dark World.
Frigga was killed in The Dark World.
Thor and Jane broke up between The Dark World and this film.
The Quinjet took Bruce/Hulk off to parts unknown at the end of Avengers: Age of Ultron, somehow getting to Sakaar in this film. The Hulk had taken on a separate personality of his own since landing on Sakaar, with Bruce noting he felt something had changed.
It was to be the final film in the Thor series, but renewed energy from the different direction taken with Thor in this film (followed by Avengers: Infinity War and Avengers: Endgame), and director, Taika Waititi, led to Chris Hemsworth to sign onto a fourth film tentatively called Thor: Love and Thunder.
Trivia
Cultural references
While in New York, there is Synchrony Bank ad on top of a taxi.
In a deleted scene, Banner compares Thor's plight in not being able to fly to Dumbo, the titular character of the Disney animated film, in that they both have it inside of them, too.
See also
External links
Community content is available under
CC-BY-SA
unless otherwise noted.