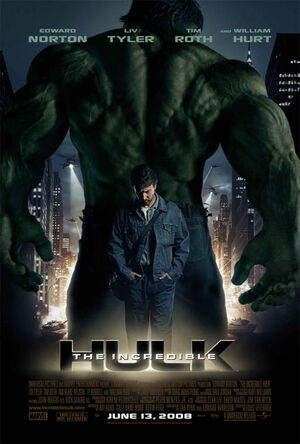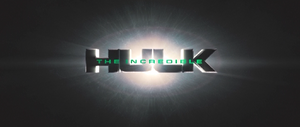 The Incredible Hulk is a 2008 film, and the second in the Marvel Cinematic Universe's Phase One. It was produced by Marvel Studios and Valhalla Motion Pictures, and distributed by Universal Pictures. The film was directed by Louis Leterrier, from a screenplay by Zak Penn, with uncredited rewrites from Edward Norton. Unlike 2003's Hulk, which was a failure at the box office, this film is more faithful to the comics, while also heavily influenced by the 1978 TV series of the same name.
Despite the buyout of Marvel Entertainment in 2009 by The Walt Disney Company, Universal Pictures still retain the rights to this film (and distribution rights to any sequels), where as the seven films distributed by Paramount Pictures were transferred to Disney in the home video market in July 2013.
Release dates
Amphitheatre, United States: June 8, 2008
United States: June 13, 2008
Briefing
Coming out from hiding, Bruce Banner's search to rid himself of the Hulk alerts his old girlfriend, Betty Ross, as well as her father, Thunderbolt Ross, and sets in motion the creation of a new monster more dangerous than the Hulk, himself. To defeat this abomination, Banner will have to embrace the Hulk, even if it means losing the one he loves.
Debriefing
Cast
Mentioned-only characters
Notes
Robert Downey Jr. is uncredited as Tony Stark.
Banner stunt doubles were Chad Camilleri and Jamie Jones.
Betty stunt doubles were Brittney Banks and Liise Keeling.
Blonsky stunt doubles were Cyril Raffaelli, Brayden Jones, and Patrick Mark.
Ross's stunt double was Duncan McLeod.
Soldier stunt double was Efosa Otuomagie.
Sterns stunt double was Scott Cook.
Commando stunt doubles were Brian Jagersky, Len Wagner, Wayne Downer, and Ed Queffelec.
Tough guy leader stunt double was Michael Langlois.
The Blu-ray release of Thor in 2011, included a short that elaborated/retconned Tony Stark's reason for meeting Ross in the post-credits. The World Security Council saw Emil Blonsky as a war hero and wanted Ross to release him into S.H.I.E.L.D.'s custody for their Avengers Initiative, which Director Nick Fury strongly detested to. In order to prevent this from happening, he got Phil Coulson and Jasper Sitwell to send in the consultant of the Avenger Initiative, Stark, as a patsy. Stark's presence brought out the worst in Ross, so in retaliation, Stark bought the bar and scheduled its demolition.

The problem with this is the timing, as Tony only became a consultant after this movie in Iron Man 2. The only way for this to fit, is if the post-credits scene was set after Iron Man 2.
Trivia
See also
External links
Community content is available under
CC-BY-SA
unless otherwise noted.