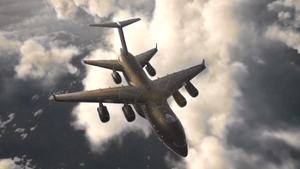 The Bus is a fictional vehicle in the Marvel Cinematic Universe.
The Bus, a shorthand name for Phil Coulson's personal CXD-23 A-201 Airborne Mobile Command Station,[1] was the headquarters and living quarters of Coulson's team for S.H.I.E.L.D. missions during seasons 1 and 2, until it was destroyed near the end of the latter.[2] It's a modified Boeing C-17 Globemaster III, and was piloted by Melinda May. The call sign was "S.H.I.E.L.D.-616".
They were in heavy rotation in the 1980s and 1990s, but were decommissioned (apparently save for one) due to Helicarriers, flying aircraft carriers.
Appearances
Total appearances: 43.
Mentions
Total mentions: 5.
Trivia
The call sign of "S.H.I.E.L.D.-616" is an allusion to Marvel Comics' mainstream universe designation, 616.
References
↑ "The Dirty Half Dozen", 2015.
Community content is available under
CC-BY-SA
unless otherwise noted.