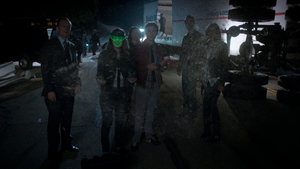 "The Asset" is the third season one episode of Agents of S.H.I.E.L.D. It was produced by ABC Studios, Marvel Television, and Mutant Enemy Productions. The episode was directed by Milan Cheylov, from a script written by Jed Whedon and Maurissa Tancharoen.
Release dates
United States, ABC: October 8, 2013
Briefing
Coulson's team have to infiltrate Ian Quinn's mansion in Maltese, to rescue scientist Dr. Franklin Hall.
Debriefing
Cast
Mentioned-only characters
Notes
The episode was presumably intended to set up Hall as the supervillain Graviton, who Hall is in the mainstream Marvel Comics Universe, justified by the fact that Ian Hart was originally intended to be a recurring guest,[1] but a creative decision led to this being dropped, which disappointed Hart.[2] Instead, Glenn Talbot ended up becoming Graviton in season 5.
Trivia
References
↑ Hibberd, James (August 13, 2013). "'Agents of S.H.I.E.L.D.' casts 'Luck' actor". EW.com. Retrieved June 26, 2018.
↑ Mellor, Louisa (October 15, 2014). "Ian Hart interview: The Driver, British film, Harry Potter". Den of Geek. Retrieved June 26, 2018.
See also
External links
Community content is available under
CC-BY-SA
unless otherwise noted.