You may also be looking for Tahiti or Project T.A.H.I.T.I.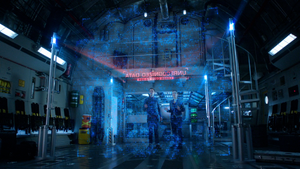 "T.A.H.I.T.I." is the fourteenth season one episode of Agents of S.H.I.E.L.D. It was produced by ABC Studios, Marvel Television, and Mutant Enemy Productions. The episode was directed by Bobby Roth, from a script written by Jeffrey Bell.
Release dates
United States, ABC: March 4, 2014
Briefing
Skye's life hangs in the balance, as Coulson desperately searches for the one place that can save her: T.A.H.I.T.I.
Debriefing
Cast
Mentioned-only characters
Notes
Trivia
External links
Community content is available under
CC-BY-SA
unless otherwise noted.