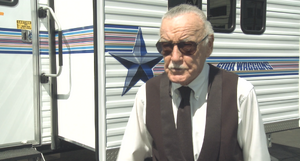 Stan Lee (December 28, 1922-November 12, 2018; age 95) was an American executive producer and actor for films and television series in the Marvel Cinematic Universe (MCU) up until his death. Lee was the co-creator of many of the comic book characters that Marvel Studios has produced into live-action movies, including Iron Man, Spider-Man, and the Hulk, along with X-Men and Fantastic Four, who's film rights belong to 20th Century Fox.
Before his death, Lee had a cameo in each movie. After Guardians of the Galaxy Vol. 2, James Gunn and Kevin Feige revealed that all of his appearances in the MCU movies had been as the same character--a Watcher informant, who has apparently lived for decades and retains the same elderly appearance since the fictionalised 1940s (except for the 1970 cameo in Avengers: Endgame, when he was depicted as looking several decades younger, despite the fact he was older in Captain America: The First Avenger, which was set in the 1940s). Gunn even went as far as to attempt to connect these cameos outside of the MCU movies, such as 20th Century Fox film Deadpool, which is set in their X-Men film universe. Conversely, the similar ABC cameos in Agents of S.H.I.E.L.D., Agent Carter, Agents of S.H.I.E.L.D.: Slingshot, and Runaways have yet to be connected, while in the Netflix cameos, he plays a character identified as Irving Forbush.
"The Whirlwind", the final season 1 episode of The Punisher, is in loving memory of him.
Filmography
External links
Community content is available under
CC-BY-SA
unless otherwise noted.