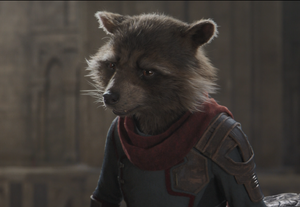 Rocket is a fictional character in the Marvel Cinematic Universe. He is a CGI created character, being played via motion capture by Sean Gunn, and voiced by Bradley Cooper.
Rocket is a cybernetically-enhanced alien resembling a raccoon, he gave himself the alias "Rocket," after his captors called him Subject: 89P13. He became a mercenary and found a partner/bodyguard in the living humanoid tree, Groot, before becoming two of the founding members of the Guardians of the Galaxy.
Physical and personality traits
Biography
Appearances
Notes
In the mainstream Marvel Comics, he is called Rocket Raccoon.
Director of the Guardians series, James Gunn, used Oreo, a real raccoon, as a live model reference for Rocket.
In popular culture
In the Superstore episode "Angels and Mermaids", Cheyenne says she wants to get a full-sized back tattoo of Rocket.
References
Community content is available under
CC-BY-SA
unless otherwise noted.