You may also be looking for the location.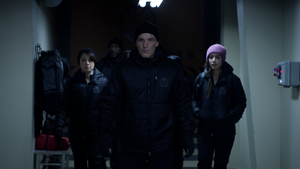 "Providence" is the eighteenth season one episode of Agents of S.H.I.E.L.D. It was produced by ABC Studios, Marvel Television, and Mutant Enemy Productions. The episode was directed by Milan Cheylov, from a script written by Brent Fletcher.
Release dates
United States, ABC: April 15, 2014
Briefing
With S.H.I.E.L.D. seen as a terrorist organization and the military closing in, Coulson receives coordinates to secret S.H.I.E.L.D. base.
Debriefing
Cast
Mentioned-only characters
Alpha
Beta
Tom Brady
New England Patriots
Notes
Trivia
External links
Community content is available under
CC-BY-SA
unless otherwise noted.