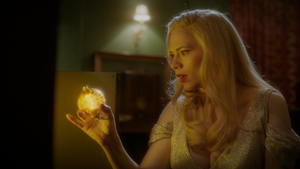 "Now is Not the End" is the first season one episode of Agent Carter. It was produced by ABC Studios, Marvel Television, and F&B Fazekas & Butters. The episode was directed by Louis D'Esposito, from a script written by Christopher Markus and Stephen McFeely.
Release dates
United States, ABC: January 6, 2015
Briefing
The war is over, but experienced Agent Carter is relegated to office work at the S.S.R. by her sexist male colleagues, who go out on field assignment. But when her old friend, Howard Stark, is accused of selling his deadly weapons into enemy hands, she finds herself working to clear his name, at the risk of being a traitor.
Debriefing
Cast
Mentioned-only characters
Benny Goodman
Jane Russell
Notes
Trivia
Cultural references
Errors
Flashbacks from the Agent Carter One-Shot are used at the beginning (featuring Carter beating up bad guys), but the timeline is complicated as both the One-Shot and season 1 are set within the same year, and furthermore, at the end of the One-Shot, she is recruited to join S.H.I.E.L.D. effective immediately.
See also
External links
Community content is available under
CC-BY-SA
unless otherwise noted.