You may also be looking for Melinda May (LMD).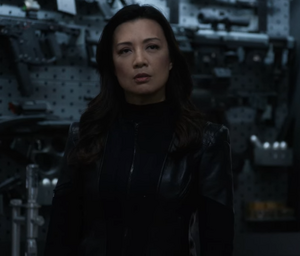 Agent Melinda May is a fictional character in the Marvel Cinematic Universe. She is played by Ming-Na Wen.
May is a veteran agent of S.H.I.E.L.D., who continued after the Hydra uprising.
Physical and personality traits
Biography
Early life
Melinda Qiaolian[1] May was the daughter of William and Lian May.
From the ages of seven to twelve, May was determined to be an ice skater, but didn't like hitting the hard floor, so she turned to martial arts, where the floor was padded, but could also punch well.[2]
She joined S.H.I.E.L.D. and began a working relationship with Agent Phil Coulson.[3] She began a romance with Dr. Andrew Garner, before eloping.[4]
Appearances
Total appearances: 123.
Mentions
References
Community content is available under
CC-BY-SA
unless otherwise noted.