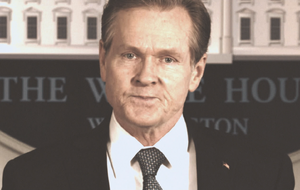 President Matthew[1] Ellis is a fictional character in the Marvel Cinematic Universe (MCU). He is played by William Sadler.
Ellis is the current President of the United States.
Appearances
Total appearances: 6.
Mentions
Total mentions: 14.
Trivia
Ellis was introduced at a time when Barack Obama would have started his second term in the real world. Obama, who in the MCU (such as Luke Cage and Runaways, as well as his implied presidency in Iron Man 2 and The Avengers), suggests that he only served one term, yet why this is the case in the MCU has never been explained.
In the real-world, Obama was succeeded by Donald Trump, who's "Make America Great Again" campaign is alluded to in Luke Cage's "Soul Brother #1". What this means to the Ellis administration is unknown.
References
Community content is available under
CC-BY-SA
unless otherwise noted.