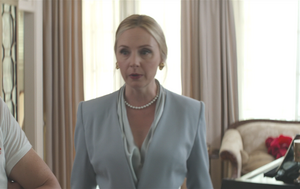 Maria Stark is a fictional character in the Marvel Cinematic Universe. She is played by Hope Davis.
Maria was the husband of Howard Stark, and the mother of Tony Stark (Iron Man). His parents died at the hands of Bucky Barnes, who had been brainwashed into service by Hydra.[1] According to Iron Man, a deleted scene during Steve Rogers (Captain America)'s adjustment to regular life in The Avengers, and Captain America: The Winter Soldier, they died on December 17, 1991. However, in Captain America: Civil War, it was changed to December 16, 1991.
Biography
Early life
According to the aforementioned deleted scene in The Avengers, she was born Maria Collins Carbonell. She married Howard Stark. In the same deleted scene, Tony's said that she gave birth to him on May 29, 1970 in Manhattan, New York.
Appearances
Mentions
Notes
A scene was filmed with an unrevealed other actress playing her in Iron Man 3, which was cut.
References
↑ Captain America: Civil War, 2016.
Community content is available under
CC-BY-SA
unless otherwise noted.