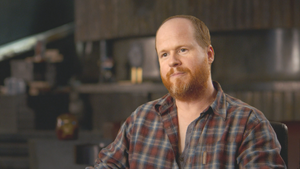 Joss Whedon (June 23, 1964) is a writer and director of film and television productions of the Marvel Cinematic Universe. He wrote and directed The Avengers, the last film in Phase One. Then worked as a creative consultant on the films in Phase Two, leading up to Avengers: Age of Ultron, which he wrote and directed again. Due in part to The Avengers, ABC was inspired to hire Whedon to also co-create the television series Agents of S.H.I.E.L.D., which his company, Mutant Enemy Productions, co-produces. He wrote and directed its pilot episode.
He also acted as a script doctor to Thor: The Dark World, directed the mid-credits scene to Captain America: The Winter Soldier, and suggested to Guardians of the Galaxy director, James Gunn, to make it "weirder", after reading an early draft of the film. He also gave approval to the Marvel One-Shot All Hail the King.
He is the brother and brother-in-law of fellow Agents of S.H.I.E.L.D. co-creators, writers, and producers, Jed Whedon and Maurissa Tancharoen, respectively.
He provided audio commentary for the DVD and Blu-ray releases of The Avengers, while also providing audio commentary for the Blu-ray release of Age of Ultron.
Filmography
Trivia
Perhaps in an attempt to replicate the success of Marvel Studios, DC Entertainment and Warner Bros. Pictures hired Whedon to write additional scenes for the Justice League film in their "DC Extended Universe", then ended up directing in post-production, replacing Zac Synder (due to the death of his daughter), making the final film his cut, although he was uncredited. Justice League became a box office bomb. Whedon was then hired to write and direct another DCEU film Batgirl, but eventually backed out due to being unable to find a good story.
References
External links
Community content is available under
CC-BY-SA
unless otherwise noted.