You may also be looking for John Garrett (Framework).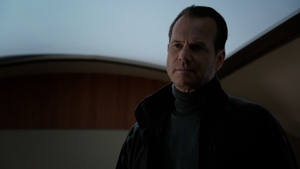 John Garrett, also known as Clairvoyant, is a fictional character in the Marvel Cinematic Universe. He was played by Bill Paxton.
Garrett was a veteran S.H.I.E.L.D. agent who became disillusioned when he questioned how important he was to them. He then became a double agent of Hydra and began his own goals and assets as the Clairvoyant. He was the first test subject of Cybertek's Deathlok project, which gave him cybernetic implants and later injected with the GH.325, making him virtually unstoppable, although he was more into using subservient agents either through Hydra loyalty or an "incentives program" by either implanting explosives into unwilling, wounded subjects and/or kidnapping their loved ones.
When S.H.I.E.L.D. was thought to have been taken down from within by other double agents of Hydra, Garrett's objectives looked a lot less opposed, but he was still sort after by Phil Coulson and his team. He was eventually incapacitated by Mike Peterson, when the renegade S.H.I.E.L.D. agents freed his son, leaving Mike free of his control and vengeful. Garrett was able survive due to the GH.325, although horribly wounded, so he began attaching more cybernetic replacements to his body, but Coulson appeared and disintegrated him with the Peruvian 0-8-4.
Appearances
Total appearances 7.
Original appearances: 6.
Archival footage: 1.
Mentions
Trivia
References
References
Community content is available under
CC-BY-SA
unless otherwise noted.