This article is about the TV series. For the character, look here.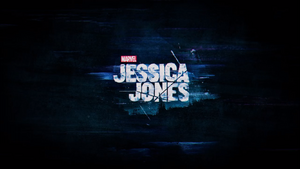 Marvel's Jessica Jones, or simply Jessica Jones, is an American web television series and the second of four series originally leading up to the crossover miniseries The Defenders. It was greenlit by Netflix, and produced by Marvel Television, ABC Studios, Tall Girl Productions.
Main characters
Krysten Ritter as Jessica Jones: A private investigator who runs Alias Investigations, with a disastrously brief superhero career, due to being manipulated due to Kilgrave into killing an innocent woman. When she was a teenager, she and her family were caught in an accident that killed them, but she was spared and given mysterious super strength and limited flight.
Mike Colter as Luke Cage: A bar owner with superhuman strength and unbreakable skin, who becomes romantically involved with Jessica, but they already share a history as the aforementioned innocent woman she killed was Luke's wife. Season 1 only; season 3 guest star.
Rachael Taylor as Trish Walker: A former model and child star, who is now a radio host of Trish Talk. She is also Jessica's adoptive sister and best friend. Walker comes from a troubled childhood of being controlled by her abusive and fame hungry mother and former agent. When Kilgrave reappears, she starts self defence classes, then becomes obsessed with trying to have superpowers like Jessica.
Wil Traval as Will Simpson: Season 1 only; season 2 guest star.
Erin Moriarty as Hope Shlottman: Season 1 only.
David Tennant as Kilgrave: A man who can control minds by hypnotically telling people what to do, brought on by experiments when he was a child. After left for dead by Jessica, he makes a miraculous return and is bent on revenge, which affects most of New York. Season 1 only; season 2 guest star.
J.R. Ramirez as Oscar Arocho: Season 2 only; season 3 guest star.
Terry Chen as Pryce Cheng: Season 2 only.
Janet McTeer as Alisa Jones: Season 2 only.
Benjamin Walker as Erik Gelden: Season 3 only.
Sarita Choudhury as Kith Lyonne: Season 3 only.
Jeremy Bobb as Gregory Sallinger: Season 3 only.
Tiffany Mack as Zaya Okonjo: Season 3 only.
Episodes
Main article: List of Jessica Jones episodes
It first streamed on November 20, 2015. There have been a total of 39 episodes and three seasons; each season had thirteen episodes. On February 18, 2019, Netflix canceled Jessica Jones, allowing Netflix to promote the third season as the last.
External links
Community content is available under
CC-BY-SA
unless otherwise noted.