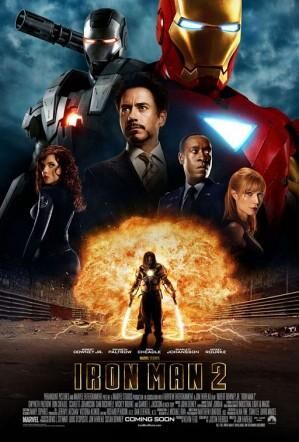 Iron Man 2 is a 2010 film and the third in the Marvel Cinematic Universe's Phase One. It is the first sequel to 2008's Iron Man. It was produced by Marvel Studios and Fairview Entertainment, and distributed by Paramount Pictures. The film was directed by Jon Favreau, from a screenplay written by Justin Theroux. Iron Man 2 was followed by Iron Man 3 in 2013, without Favreau as director, having been replaced by Shane Black.
In 2009, The Walt Disney Company bought Marvel Entertainment, although this didn't affect the distribution rights of Iron Man 2 in the home video market until July 2013.
Release dates
El Capitan Theatre, United States: April 26, 2010
United States: May 7, 2010
Briefing
Tony Stark has achieved worldwide celebrity stardom as Iron Man, but quickly becomes a reckless drunk, due to the incurable palladium poisoning in the arc reactor that's supposed to be keeping him alive. The government, which wants his armors, is also on his back, along with Ivan Vanko, who is using similar technology and out for revenge.
Debriefing
Cast
Mentioned characters
Production
Notes
Trivia
This film is available to buy on DVD and Blu-ray.

Jon Favreau provides audio commentary on not only the film but also deleted scenes.
Cultural references
See also
External links
Community content is available under
CC-BY-SA
unless otherwise noted.