This article is about the first film. For the character, see Tony Stark.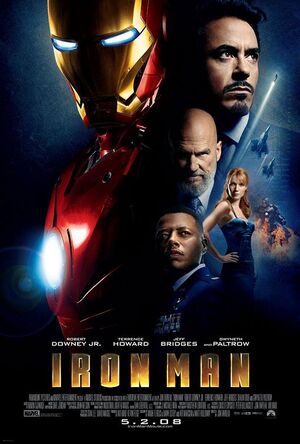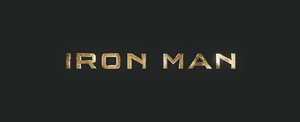 Iron Man is a 2008 film and the first in the Marvel Cinematic Universe's Phase One. The film was a financial and critical success, leading to Iron Man 2 in 2010, as well as the beginning of a shared film universe, which would eventually lead to The Avengers in 2012. It was produced by Marvel Studios and Fairview Entertainment, and distributed by Paramount Pictures and Marvel Entertainment. The film was directed by Jon Favreau from a screenplay written by Mark Fergus & Hawk Ostby and Art Marcum & Matt Holloway.
In 2009, The Walt Disney Company bought Marvel Entertainment, although this didn't affect the distribution rights of Iron Man in the home video market until July 2013.
Release dates
Sydney, Australia: April 14, 2008
United States: May 2, 2008
Briefing
Weapons developer, Tony Stark, is held prisoner by terrorists in an Afghan cave to build an arc reactor. Badly wounded with a piece of shrapnel embedded in his heart, he uses the arc reactor to keep himself alive, instead, while also using it to power a metal suit, which he uses to escape. He then uses an advanced model of the suit to take revenge against the captors as Iron Man.
Debriefing
Cast
Mentioned-only characters
Production
Notes
Trivia
Rhodes is credited as Rhodey.
Lieutenant Lacy is simply credited as "CAOC analyst."
The movie is parodied in the Robot Chicken episodes "I'm Trapped" and "Tell My Mom." In the first episode, Dick Cheney is injured and caught by the Ten Rings and sent to the same cave as Tony Stark. Stark already has the Mark I ready, which Cheney steals to escape. The post-credits scene of the second episode mirrors the post-credits scene of the movie, only Fury is a distraction for his burgling partner to steal Stark's TV.
In the The Venture Bros. episode "Blood of the Father, Heart of Steel", Brock goes to a doctor to get HELPeR.'s head removed from his chest, to which the doctor believes Brock was following a trend, as he's implanted a lot of "robot hearts" since Iron Man came out.
Cultural references
See also
External links
Community content is available under
CC-BY-SA
unless otherwise noted.