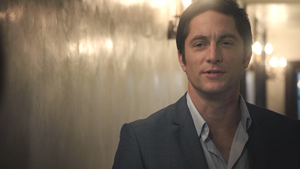 Ian Quinn is a fictional character in the Marvel Cinematic Universe. He is played by David Conrad.
Quinn was a scientist, industrialist, and owner of Quinn Worldwide. He became a citizen of Malta, which would provide him with immunity against American laws and S.H.I.E.L.D. He teamed up with John Garrett (the Clairvoyant) to acquire the Gravitonium, which he originally wanted from Dr. Franklin Hall, but was confiscated by S.H.I.E.L.D. and hidden away in the Fridge. Once he eventually got that, he ended his association with Garrett. But it was revealed several years later that Raina, another partner of Garrett, betrayed Quinn by releasing the Gravitonium onto him.
Appearances
Total appearances: 9
Original appearances: 8.
Archival footage: 1.
Mentions
Total mentions: 7.
References
Community content is available under
CC-BY-SA
unless otherwise noted.