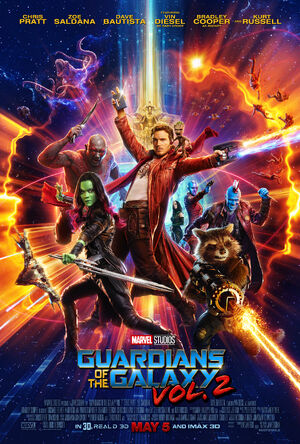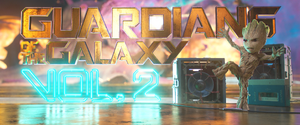 Guardians of the Galaxy Vol. 2 is a 2017 film, and the third in the Marvel Cinematic Universe's Phase Three. It was produced by Marvel Studios, and distributed by Walt Disney Studios Motion Pictures. The film was directed by James Gunn, from a screenplay written by himself, as was the case with the first film, with the same cast. It was intended to be followed by Guardians of the Galaxy Vol. 3 in 2020, but was placed on an indefinite hiatus due to The Walt Disney Company learning of several off color jokes Gunn made on Twitter, leading to his firing.
Release dates
Tokyo: April 10, 2017
United States: May 5, 2017
Briefing
Peter Quill (Star-Lord) discovers the origins of his alien parentage, when he comes into contact with his estranged father, Ego. But Ego's ambitions to reshape the universe in his own image and extinguish all life in the process, leads to an all-out war between him and the Guardians of the Galaxy.
Debriefing
Cast
Mentioned-only characters
Notes
Trivia
This film confirms that all the cameos from Stan Lee in the previous films are the same character.
See also
External links
Community content is available under
CC-BY-SA
unless otherwise noted.