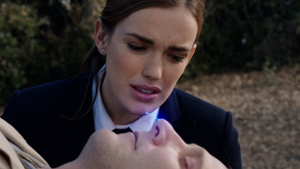 "FZZT" is the sixth season one episode of Agents of S.H.I.E.L.D. It was produced by ABC Studios, Marvel Television, and Mutant Enemy Productions. The episode was directed by Vincent Misiano, from a script written by Paul Zbyszewski.
Release dates
United States, ABC: November 5, 2013
Briefing
The team work to counter a Chitauri virus, when Jemma gets infected, with little chance of an antiserum.
Debriefing
Cast
Mentioned-only characters
Notes
Trivia
This episode is available to buy on DVD and Blu-ray.
Cultural references
Skye mentions "the Dude" (played by Jeff Bridges) from the film The Big Lebowski, which Coulson and Ward apparently haven't heard of.
While quarantined, Simmons calls herself "Typhoid Mary", after Mary Mallon, who was the first United States person to be identified as an asymptomatic carrier of the pathogen associated with typhoid fever.
Fitz mentions James Bond, a fictional spy and main character in a film series.
See also
External links
Community content is available under
CC-BY-SA
unless otherwise noted.