This article is about the first film. For the character, see Carol Danvers.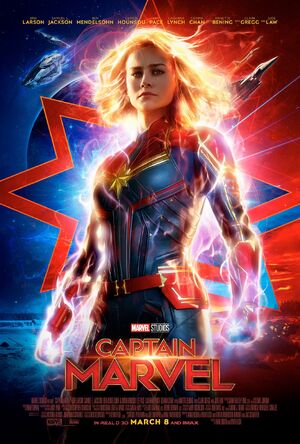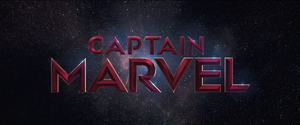 Captain Marvel is a 2019 film, and the ninth in the Marvel Cinematic Universe's Phase Three. It was produced by Marvel Studios, and distributed by Walt Disney Studios Motion Pictures. The film was directed by Anna Boden and Ryan Fleck, from a screenplay by themselves and Geneva Robertson-Dworet (the poster also credits Jac Scheaffer), based on a story also by themselves, Nicole Perlman, and Meg LeFauve (the poster replaces LeFauve with Joe Schrapnel and Anna Waterhouse).
A sequel, The Marvels, will follow in 2022.
Release dates
United States: March 8, 2019
Briefing
After escaping Skrull capture, Vers, a member of the Kree organization known as Starforce, crashes to Earth. While waiting for help, she discovers suppressed memories of her past on Earth. To reclaim her old life as Carol Danvers and become the galaxy's most powerful superhero, Captain Marvel, Vers must question the side she's on and everything she's been led to believe.
Debriefing
Cast
Mentioned-only characters
Yon-Rogg's brother
Yon-Rogg's father
Kevin Smith
Notes
Trivia
Maria's calendar says June 1995.
Cultural references
When Carol crashes back to Earth, she lands in a Blockbuster Video store, which rents True Lies, Babe, Ghostbusters, The Nightmare Before Christmas, Lethal Weapon 3, Legends of the Fall, Junior, Jumpin' Jack Flash, First Knight, Hook, and The Right Stuff.
Stan Lee reads the script to Mallrats on a train.
The kitchen at the Rambeau residence has a box of Barnum's Animals.
Trailers
See also
External links