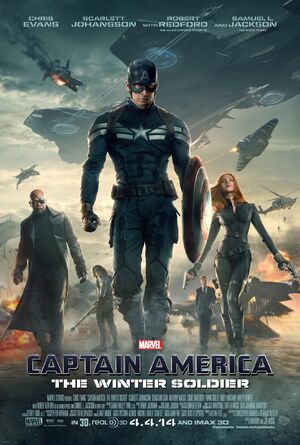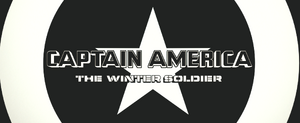 Captain America: The Winter Soldier is a 2014 film and the third in the Marvel Cinematic Universe's Phase Two. It was produced by Marvel Studios, and distributed by Walt Disney Studios Motion Pictures. The film was directed by Anthony Russo & Joe Russo, from a screenplay written by Christopher Markus & Stephen McFeely. It followed Captain America: The First Avenger in 2011, and was followed by Captain America: Civil War in 2016.
Release dates
El Capitan Theatre, United States: March 13, 2014
United States: April 4, 2014
Briefing
Steve Rogers continues to fight as Captain America as a S.H.I.E.L.D. agent, but he uncovers a conspiracy within the organization that will question who or what he fights for, and who will stand with or against him.
Debriefing
Cast
Mentioned-only characters
Steve Jobs
Nirvana
Nick Fury's grandfather
Peggy Carter's husband
Alexander Pierce's niece
Alexander Pierce's father
Alexander Pierce's daughter
Bucky Barnes's mother
Bucky Barnes's father
Production
Notes
Trivia
According to the screenwriters, through a time loophole in Avengers: Endgame, Rogers ends up replacing the man who he apparently saved and married Carter and fathered their children.[1]
Cultural references
When first interacting with Zola's computer, Romanoff makes a reference to the film WarGames.
Errors
References
↑ Couch, Aaron, Shanley, Patrick (May 10, 2019). "'Avengers: Endgame' Writers Take on Biggest Fan Theories". The Hollywood Reporter. Retrieved April 10, 2020.
External links
Community content is available under
CC-BY-SA
unless otherwise noted.