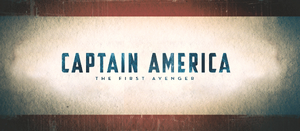 Captain America: The First Avenger is a 2011 film and the fifth in the Marvel Cinematic Universe's Phase One. It was produced by Marvel Studios and distributed by Paramount Pictures. The film was directed by Joe Johnston, from a screenplay written by Christopher Markus & Stephen McFeely. It was followed in 2011 by Captain America: The Winter Soldier, the first of two sequels. The sequel was set in present-day, with an almost entirely new cast and two new directors, while keeping the same writers.
In 2009, The Walt Disney Company bought Marvel Entertainment, although this didn't affect the distribution rights of The First Avenger in the home video market until July 2013.
Release dates
El Capitan Theatre, United States: July 19, 2011
United States: July 22, 2011
Briefing
Frail and sickly Steve Rogers becomes the test subject of a super soldier program during World War II. Steve, now Captain America, isn't just fighting to stop the Nazis, but also the Red Skull of the Nazis' science division, who plans to dominate the planet with the Tesseract, a powerful energy source.
Debriefing
Cast
Mentioned-only characters
Production
Notes
Trivia
See also
External links