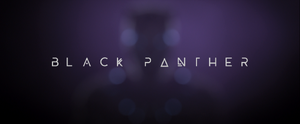 Black Panther is a 2018 film and sixth in the Marvel Cinematic Universe's Phase Three. It was produced by Marvel Studios, and distributed by Walt Disney Studios Motion Pictures. The film was directed by Ryan Coogler, from a screenplay written by himself and Joe Robert Cole.
Release dates
Dolby Theatre, United States: January 29, 2018
United States: February 16, 2018
Briefing
T'Challa, the Black Panther, is crowned king, but his attempts to fill his father's old shoes is troubled with the growing need to adapt to the present and face the dangers the outside world poses to his isolated country, especially when his sovereignty is challenged by a forgotten family member who plans to take their advanced technology to those in need.
Debriefing
Cast
Mentioned-only characters
Production
Notes
Sebastian Stan is uncredited as Bucky.
N'Jadaka/Erik Stevens/Killmonger is never referred to as Erik Killmonger within the film, which is the character's name in mainstream Marvel Comics, but is credited as such.
Killmonger's girlfriend's name isn't spoken on-screen, but her nametag at the Museum of Great Britain said "Tilda", as she was supposed to be playing Tilda Johnson, but that name went to another character in the Luke Cage TV series, so the credits just identify her as Linda.
Brothers

Donald

&

Stephen Glover

added to the comedic aspects of the film, such as Shuri requesting to finish up the ceremony quickly the because of her uncomfortable girdle, which they got a special thanks for.
The Black Panther stunt doubles were

Daniel Patrick Graham

and

Anis Cheufra

.
The T'Challa sunt double was

Kofi Yiadom

.
The Killmonger stunt doubles were

Khalid Ghajji

and

Aaron Toney

.
The Nakia stunt double was

Niahlah Hope

.
The Shuri stunt double was

Crystal Michelle

.
The M'Baku stunt double was

Zedric Harris

.
The W'Kabi stunt double was

Brandon Michael Shaw

.
The Klaue stunt double was

David Conk

.
The Tilda stunt double was

Raven Danielle Baker

.
Trivia
See also
External links