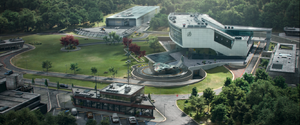 The Avengers Compound is a fictional location in the Marvel Cinematic Universe.
It was an abandoned Stark Industries warehouse in Upstate New York, that was renovated to be the second Avengers headquarters after the battle in Sokovia, replacing Avengers Tower. The new HQ had bigger room for teams of scientists and Avenger training. When Tony Stark sold Avengers Tower, he moved in with all his equipment.
It was destroyed by Sanctuary II, when 2014 Thanos was able to "hijack" the Quantum Realm and travel to 2023, where the Avengers had originally travelled from.
Appearances
Total appearances: 8.
Comics
Avengers: Infinity War Prelude

(2018)
References