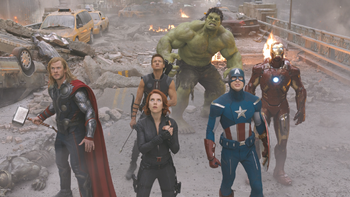 The Avengers are a fictional organization in the Marvel Cinematic Universe.
Members
1st iteration
Members in The Avengers.
2nd iteration
Members in Avengers: Age of Ultron.
Bruce Banner (Hulk)
Clint Barton (Hawkeye)
Natasha Romanoff (Black Widow)
Steve Rogers (Captain America)
Tony Stark (Iron Man)
Thor
Honorary in battle of Sokovia:
Recruits post-battle of Sokovia:
3rd iteration
Members in Captain America: Civil War
James Rhodes (War Machine)
Natasha Romanoff (Black Widow)
Sam Wilson (Falcon)
Wanda Maximoff (Scarlet Witch)
Vision
Appearances
Total appearances: 7.
Mentions
Total mentions: 9.
References
Community content is available under
CC-BY-SA
unless otherwise noted.