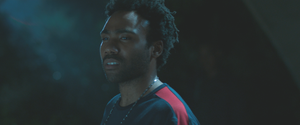 Aaron Davis, also known as the Prowler, is a fictional character in the Marvel Cinematic Universe. He is played by Donald Glover.
Davis is a petty thief known as the Prowler, who's been arrested four times. He tried buying alien-human hybrid technology from Jackson Brice and Herman Schultz, but was put off when Spider-Man showed up.
When Spider-Man later looked up Davis to get the whereabouts of Brice and Schultz, he can only tell him the next arms deal will be, since he doesn't want that technology risking the safety of his nephew.
Appearances
Trivia
Davis's unnamed nephew is an allusion to Miles Morales, who became the next Spider-Man in the Marvel Comics' Ultimate Universe, and has since been adapted into the mainstream 616 universe.
Community content is available under
CC-BY-SA
unless otherwise noted.